Venues
TOGA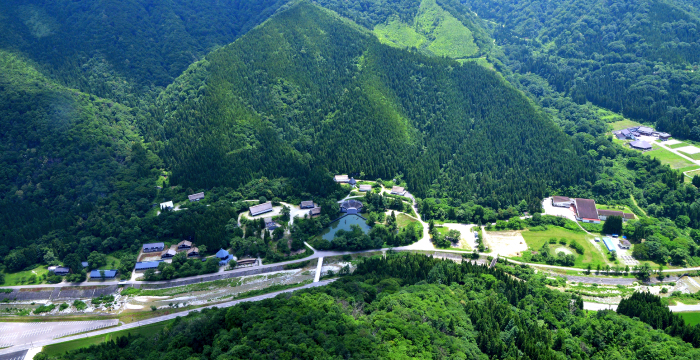 In 1976, theatre director Tadashi Suzuki relocated his theatre company, the Waseda Shogekijo (now the Suzuki Company of Toga or SCOT) to Toga, remodeled one of the farmhouses into a theatre called Toga Sanbo, and commenced the company's activities there. In 1982, a new Greek-style amphitheatre (designed by Arata Isozaki) was constructed, and the first ever international theatre festival in Japan, the Toga Festival, was launched.

Since then, the Park has developed into a major performing arts center with six theatres, rehearsal halls and dormitories. Surrounded by nature with an environment where traditions of old Japan are still alive, Toga has become an internationalized "place" where people from all over the world gather and communicate through theatre. It is called the "mecca of theatre" by theatre artists from around the world.
Toga Sanbo

A remodeled gassho-zukuri (thatched-roof mountain farmhouse) with a new annex serving as an entrance hall. The entrance hall, bordered on three sides by glass windows and featuring a large stairway, is a "lightness" space, while the theatre's interior, modeled after a Japanese Noh stage and constructed from all black materials, has an overall feeling of "darkness".

New Toga Sanbo

The largest gassho-zukuri structure in Japan. Modeled after the Toga Sanbo, but with increased stage and audience space. The interior walls feature split bricks and the overall design has a more modern feel. Additionally, the high ceilings create an impression of a larger scale theatre.

Open Air Theatre

Constructed for Toga's first international theatre festival, this theatre is fundamentally modeled on the classic amphitheatre of ancient Greece. When the lake and mountains in the background are illuminated by stage lighting or fireworks, the space takes on a quality of cosmic dimensions.

Blackbox Theatre

For many years, the Center for Creative Exchange was home to the Toyama Prefecture Youth Nature House. However, in 2007, the building was remodeled into a cultural center with dorm rooms, meeting rooms, rehearsal halls and a theatre. While the Toga Art Theatre, like the Toga Sanbo and New Toga Sanbo, has a ceiling, walls and the floor all in black, the concrete construction gives it more the feel of a contemporary "black box" space. Since the stage and audience seating can be configured in a variety of ways, this space has a high degree of flexibility.

Rock Theatre

A small outdoor theatre constructed in a corner of the park's public garden area. With the New Toga Sanbo and natural landscape for its background, the Rock Theatre allows the entire public garden area to function as a theatrical space. The stage features large stones surrounding the playing space which can be lit to beautiful effect.

Toga Dai-Sanbo

Originally a municipal gymnasium of Nanto City, after its renovation this space was renamed the Toga Grand Theatre (Toga Dai-Sanbo). Featuring a thick steel-beam construction throughout the interior space and a performing area with a depth on scale with that of an opera house stage, this facility is also stocked with a professional-level inventory of lighting and sound equipment.
KUROBE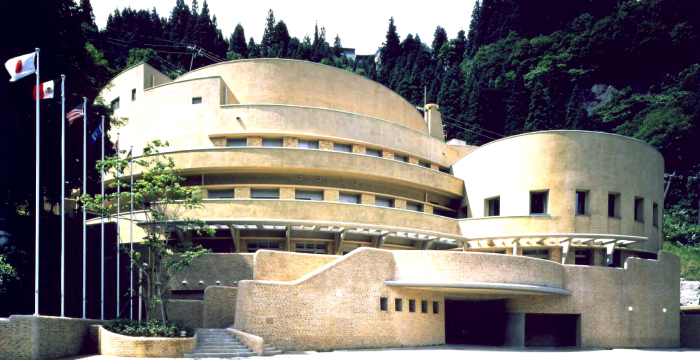 Selene is the name of a moon goddess from Greek mythology. The Hall was named after her due to the "moon" character (the "zuki" in Unazuki Onsen) and the round, elegant design of the building.
It is comprised of a large hall, small hall, six meeting rooms, and an international conference hall that is adjustable to various kinds of events. The museum establishment presents works by Japanese artists Ikuo Hirayama and Hideo Shiode, depicting the beauty of nature and the symbiosis of nature and human beings.
Unazuki International Hall "Selene" Grand Hall

Unazuki International Hall "Selene" Cafe (2F)
It is a multifunctional space that can present theatre and music, as well as hold large conferences, ceremonies, symposiums and lectures. It is equipped with video, sound, and lighting systems, as well as a system that allows up to six languages to be interpreted simultaneously. The large hall which is configured with curves creates a soft atmosphere.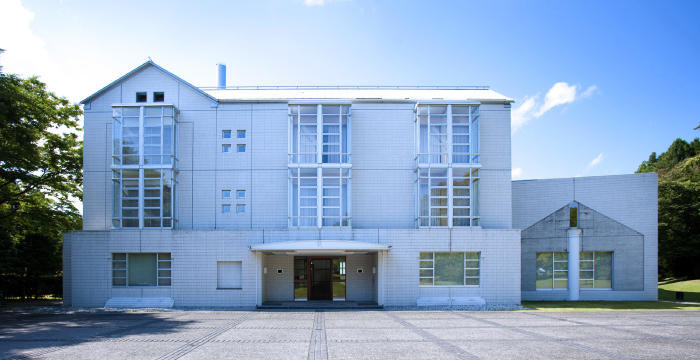 Designed by the architect Maki Fumihiko, it is comprised of YKK's guest house Maezawa Garden House built in 1982, and an open air theatre called Maezawa Garden Open Air Stage: a stage surrounded by a circular seating area and green rolling hills. The establishment was built in an aim to promote international exchange and revitalize the local community.
Maezawa Garden Open Air Stage (YKK)

Maezawa Garden House
A open air stage located within the Maezawa Garden grounds. A circular audience seat surrounds a stage with spacious green hills and trees as its backdrop.